Summer Active
Swimming Fun
Kaiserbad Ellmau
The KaiserBad in Ellmau offers pure swimming fun for the whole family. With indoor and outdoor pools and a flow channel leading outside, a kid's pool with slide, a water jet and water umbrella, a large lake with diving boards, and four water slides ('black hole' 91 meters, 'turbo slide' 55 meters, 'blue' water slide 92 meters, and a broad slide), and a large kids playground with trampolines. Adults can also relax in the wellness and sauna area. More Info →
Goinger Badesee (swimming lake)
Located on the edge of a forest with panoramic views of the Wilder Kaiser mountains is the Goinger natural lake. The water heats up to a pleasant 24 degrees and there is a separate kids pool and playground. The lake also has a 100m long water slide, and an extra wide slide. A day at Tirol's most beautiful natural lake is a holiday hit for the whole family
Family Fun Parks
Ellmi's Zauberwelt (Ellmi's Magic World)
At the top of the Hartkaiser mountain in Ellmau, you can step into a magical, fairy tale world, you might even meet a secret figure in the botanical gardens. As you sit in the Panorama restaurant with its magnificent views of the Wilder Kaiser, make sure that there are no little gnomes around – they like the good food too!  More Info →
Kaiser Welt Scheffau (Emperor World)
The "KaiserWelt" in Scheffau is a fun park situated at an altitude of 1650 m. In the woods, next to the Brandstadl cable car station, kids can run and play to their heart's content in the various tree cabins and climbing and skill apparatus. All the while parents enjoy the panoramic view of the surrounding mountains from the Brandstadl mountain restaurant. Guests are always overwhelmed by the magnificent view of the impressive Wilder Kaiser and the surrounding mountain pastures. More Info →
Hexenwasser Hochsöll (Witch's Water)
Way back in the days of old, the area around the Hohe Salve was regarded as "witch country". Today it has lost none of it's fascination, and the spooky tales of the witches and magicians of Hochsöll continue to be retold. Nature lovers of all ages will be fascinated by the mystical "Hexenwasser" theme park in Hochsöll (1,150 m), which revolves around the theme of "water" in a careful and nature-friendly way. It offers more than 30 points of interests along a 450 m long path from the cable railway to the Stöcklalm Inn. Info →
Golf
27-Hole Golf Course Wilder Kaiser
88 ha of beautiful parkland golf, set amongst the rolling hills at the foot of the majestic Wilder Kaiser. The well maintained 27 hole course in Ellmau, has become one of the most popular golfing destinations in Austria. Quality has always been of the highest priority and the course perfectly harmonies into the local landscape. The holes are relatively flat but very challenging and our guests will enjoy an unforgettable round of golf. More Info →
9-Loch Kaisergolf Mühlberhof
Want to improve your short game? there is no better place than the challenging 9 hole 'pitch & putt' Kaisergolf. The course is on a slope, has water, is surrounded by forest, and has relatively small greens, so you will require a precise game to achieve a good score. Kaisergolf offers something for all golfer's, from beginners to the more experienced.
Hiking & walking
BergWelt – 400 km of hiking trails
The Wilder Kaiser region is a hiking paradise, with a remarkably diverse selection of trails for you to discover. With idyllic valleys, rolling grassy hills and imposing mountains, plenty of scenic charm is guaranteed. The variety of tours is huge, and can be combined to suit your needs and ability. More than 400 km of signed hiking paths take you safely through one of the most beautiful regions in Tirol. With the BergWelt hiking pass (1 to 14-day or season tickets) the cable cars and lifts in the SkiWelt-Wilder Kaiser-Brixental offer you unlimited possibilities. Summer BergWelt Map → 
Overnight hikes on the Wilden Kaiser
Discover the fun of hiking on and around the Wilder Kaiser, going from hut to hut with overnight stays. Follow the Adlerweg (Eagle Trail) or the pilgrims along the Tyrolean St James route. It is safe to say the three day hiking tour on the south side of the Wilder Kaiser is one of the most beautiful hikes in Tirol. For the more adventurous there is a 5 day tour around the whole Wilder Kaiser.
1st Kneipp Adventure Village in Tirol
Established in 2007, Scheffau am Wilden Kaiser is the "1st Kneipp for me® village in Tirol" and invites you to experience the seven relaxation and healing stations along the Kneipp-walking trail. This holistic natural healing process regards body, mind and soul as a complex unity. It has been tried and tested by tradition and medically recognized.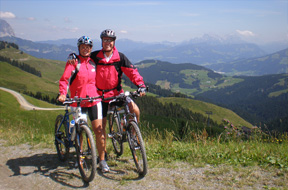 Bike Tours
Mountainbike and E-Bike
In the Wilder Kaiser region everyone will find a tailor-made route to suit their needs and ability. From leisurely bike and E-bike tours in the valley to demanding mountain bike trails. We are also the world's largest E-bike region. Daily guided tours are offered from May to October.
Climbing
Alpine & sport climbing and mountaineering
The steep rock faces of the Kaiser mountain range make it the ideal place for all climbers and mountaineers. The region offers mountaineering, alpine climbing, sport climbing, and ice climbing on frozen waterfalls. Climbing courses are available for beginners through to advanced. Highly recommended are the numerous sport climbing routes around the "Achleiten" and "Schleier Waterfall" many of which have been developed by the famous Bavarian climber "Huber Buam".